This pandemic is unlike anything we've experienced and we have to adjust to a new routine while also contending with the fears and anxieties that are a natural response to something like this. Many people are experiencing feelings of anxiety and stress during this time, so we've compiled a list of things to try that might help to alleviate some of the burden.
Plan Things Where You Can
With the current climate of uncertainty affecting almost every aspect of our lives, it's natural to feel overwhelmed and anxious.
Try and plan for practical things where you can, to help you feel more in control. For example, plan a way to get food and other supplies if your household has to go into quarantine, either using a delivery service or a friend.
Try and Stay in a Routine
For many people, the sudden change in daily routine is a huge contributor to anxiety and mental health issues.
It can be tempting to sleep in, or spend all day in your pyjamas but sticking to a routine can help you feel more in control of your daily life. Little things like getting up at the same time every day and getting dressed will help you to focus on work or whatever other activities you're doing.
Having little rituals that you stick to every day can help add structure and stop all the days blurring into one.
Look After Yourself
At a time like this it can be easy to fall into unhealthy habits that can make you feel worse, but looking after your physical health can have a positive impact on your mental health
Try to eat a healthy and balanced diet and maintain a regular sleep schedule. Not only will this help you stay healthy, it will keep you in a routine.
It's also important to try and stay active. You can leave your house for an hour of exercise once a day (while social distancing!), or there are plenty of at home workouts to try – check out these ones from the NHS.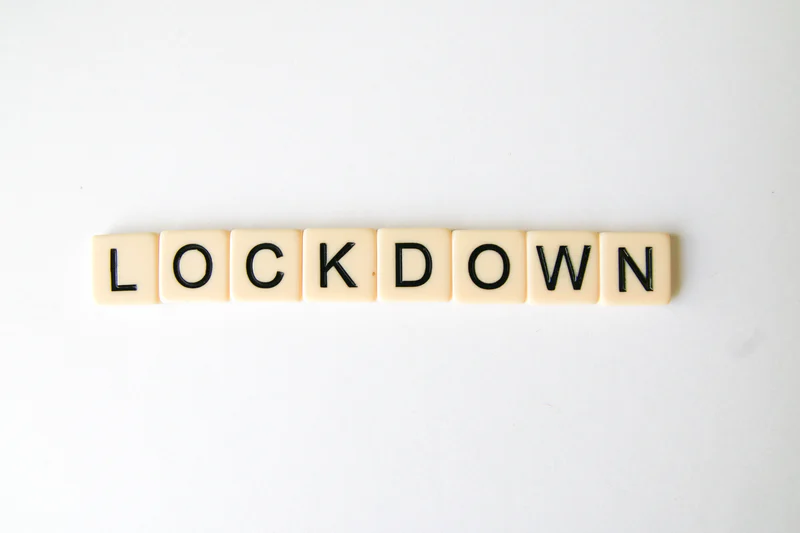 Stay In Touch
Staying in touch with friends and family can help to alleviate loneliness and stress, especially if you live alone. There are loads of options for staying in touch, whether it's by phone, social media, video calls, online gaming, etc. Video calls in particular can help you to feel more connected to loved ones.
Many people are having difficulty adapting to the current situation. Talking about your worries to someone else can be reassuring to both of you that you are not alone.
As we adapt to our new normal, many people are finding ways to transition offline social activities into the online world. Maybe you can have an online pub quiz with your friends, or see if any artists you like are livestreaming gigs.
Stop Scrolling
The constant stream of updates and speculation can be upsetting, but you may feel it's important to stay informed. Consider limiting how much time you spend reading the news, and make sure you stick to reputable sources and avoid sensationalist headlines.
This also includes social media. While it can be a useful tool to stay in touch with friends and family, constant updates about the pandemic may cause anxiety to worsen. Evaluate how beneficial time on social media is to you and try to lessen it if it's causing you stress.
Another technique is to engage with positive news stories. There are hundreds of articles about recoveries, demonstrations of community spirit and innovative ways people are adapting to the new normal that may help to lift your mood and inspire hope in this difficult time.
Start a New Hobby Or Revisit Your Old Ones
Suddenly finding yourself with lots of free time and a limited number of ways to fill it can be daunting. Now is the perfect time to start a new hobby, or develop your current ones, to help fill up your time and add structure to your days.
The possibilities are endless. Have an old guitar gathering dust? Pick it up and learn a few chords. Want to learn a practical skill like coding? Check out free courses on sites like Codecademy. Interested in photography? Take a camera or smartphone with you on your daily walk.
Hobbies can also be a great way to stay connected with people. The internet is full of online communities for anything you can think of. Find one for your hobby and get involved; share tips and resources, get help from experts and encourage each other!
Don't Beat Yourself Up
With all that being said, it's important to make sure you don't put too much pressure on yourself. Adjusting to such a huge change in a relatively short amount of time is bound to take its toll, and it may take you longer to settle into a new routine than you'd like, especially if you already experience mental illness.
You may feel pressure to be more productive with all your newfound free time. But it's ok to wrap yourself in your duvet and binge Netflix for a day instead of painting a masterpiece or reorganising your wardrobe. Learning to forgive yourself for not being at your most productive will help you to cope with the inevitable down days we will all experience under lockdown.
Talk to Your GP
If your mental health declines to the point that you are struggling to cope, talking to your GP may help. Despite most practices now being closed, you will be able to access online and phone services and book an appointment that way. For more information, keep up to date with the NHS website
Adapting to a new way of living that is completely different to our norm is difficult, but there are some steps you can take to ease the transition and help yourself cope with the changes.
Remember that by staying home and looking after yourself, you are helping to protect the NHS and save lives.