Training is a crucial part of every workplace. From onboarding new team members to continuously topping up your staff's knowledge, successfully training your team ensures they're always working to their highest standard.
However, face-to-face training can take up a lot of time, take a lot of planning and cost a pretty penny.
This is why more and more companies are moving their training online.
You can standardise learning, track training and have constant access to the materials, all whilst saving time and money.
Nonetheless, swapping your classroom setting with a virtual space can be challenging and daunting. Where do you start? What learning management system will work for you and your team? How do you create engaging content?
Fear not. We've made a list of five key things to remember when moving your training online to ensure a smooth transition.
Focus on the Learner
The most important thing to think about is your team.
You need to consider what they need for the training to be successful; from the online platform to the training content itself. Whether it's making sure they are up-to-date with their training or ensuring a smooth and thorough onboarding process, the platform should be user-friendly and clear on how to access training material and resources. And the training and resources themselves should be engaging and easy to understand.
If you go into this change without thinking about the people taking the training, it can become a prolonged and difficult experience, resulting in reduced productivity and low staff retention.
So remember, you're essentially doing this for your team.
And with that in mind, you can begin the process of moving your training online.
Do Your Research
There are many different kinds of LMS out there. They all vary in price and user numbers, features and usability, so it's super important to do your research to know what works best for you and your team.
First, establish some goals of what you want from your training platform to keep at the forefront of your mind. How much do you want to spend? How big is your team? Are there any features you must have to make the move to online training worthwhile for you? Such features include being accessible on mobile devices, so training can be accessed anytime, anywhere.
You also need to decide what type of learning you want to focus on: asynchronous, synchronous or blended learning.
Asynchronous learning is self-paced and is a single user interacting with the online platform. This method of learning is extremely flexible by allowing the learner to decide when and where they do their training and how fast they go. Learners usually interact with their trainer or other learners via email or discussion boards.
Synchronous learning is in real-time and involves interaction and participation with others. This is usually carried out through video conferencing or instant messaging to facilitate discussions between the learners and the trainer.
Blended learning is a mixture of asynchronous and synchronous learning. This means there are sections of training that can be done at the learner's own pace, and other sections that are instructor-led for real-time interactions.
After answering all of these questions, you can begin researching your options.
But don't worry, you're not searching blindly!
Websites such as Capterra are a great resource for comparing software, including online training platforms . Directly compare different features and read user reviews to help you decide which LMS is best for your team.
Once you have found an LMS you like, they usually provide a free trial. This is a great way to get a feel for the platform and check out whether it ticks all the boxes before committing to anything.
If it does it for you, then you should check whether others feel the same. This includes trainers – or those creating the training – and team members, so you get different perspectives of the product.
It's important to take your team's perspective into consideration, as they're the ones who will be using the LMS to complete training. Remember, focus on the learner!
Once you have an LMS you and your team are happy with, the next step is to think about the actual training.
Adapt, Plan and Engage
Although you have all of your previous face-to-face training material, you can't just go and upload it to your new LMS: that's not going to cut it.
You'll need to adapt for an online medium, and rework your training content to make sure it's engaging for your staff.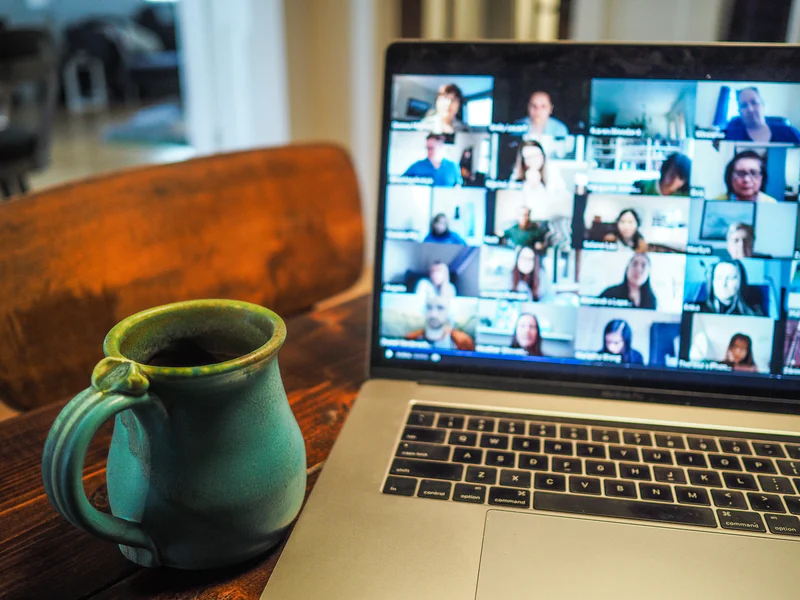 For example, simply uploading a powerpoint you normally present to your team isn't going to have the same impact when they're silently flicking through it at home. You're going to need to include your discussion points, audio of your voiceover, or reinvent the powerpoint into a video – whatever you do, think about what your team needs to learn and the most effective way to achieve this.
However, we're not saying rehaul your entire training catalogue. Simply consider what changes are going to have the most impact.
The easiest and most effective way to do this is using different types of content.
You can mix text with images, infographics, audio and videos. Include links to relevant Youtube videos or Ted Talks. Use forums or discussion boards for participation and questions. Upload corresponding resources, like PDFs, word documents or spreadsheets. You can even use gamification on some platforms.
As you can see, there many different types of content and combinations you can use to rework and create engaging training for your team. You just need to do what works for you and your team.
Test the Effectiveness
Once you have reworked your training and moved it all online, you now need evidence that it's actually working: as in, are your team learning what you're teaching them?
There are different ways to test the effectiveness of training, depending on the job itself.
If it's theoretical training, then using the quiz feature built into your chosen LMS could be the best option. Breaking a course up with some questions ensures the learners are keeping up with the material, and gives them time to digest and retain this information.
Or if it's a practical skill, you might need your team to prove their newfound knowledge in the form of an on-the-job evaluation. Whether it's learning a new computer system or a new way to make a bed, your team will be tested as they put their training into action.
Another aspect of testing your team you need to bear in mind is what happens when they complete a course. Do you need to sign their training, or send out a certificate? Or both?
By doing this, you not only are making sure your company is compliant, but you're also rewarding your team for a job well done. This can make them feel appreciated; and a happier team means they'll work even harder.
Get Feedback
And finally, our last tip for moving your training online, is to evaluate your training. This is particularly important when you're just starting out, but should also be a continual process.
Like when you picked an LMS, get feedback on your training material from both your trainers and your learners. They can tell you what works, what they struggled with and maybe give you suggestions on how to improve the course. This can be as simple as breaking the course into more manageable chunks, so you don't have to rework any of the actual content.
Whatever it is, you can learn how to develop and adapt your training to make it the best it can be for your team; both for current and future team members.
And there you have it: Tayl's five key things to remember when you are moving your training online. From increased efficiency to happier teams, switching to online training will greatly benefit you, your team and your company.